SALT JAR refillery was born from the desire to reduce single-use plastic pollution and make low-waste living simple, convenient and accessible to all islanders. 
With this in mind, our mission at Salt Jar is to get high-quality, consciously-sourced, plastic-free grocery essentials to Islanders in an easier, cleaner way.
The products are sourced from a variety of vendors who sell premium products in returnable totes. It's not an easy feat to accomplish when the grocery world relies heavily on convenience plastics. There are a small (but growing) group of grocers working to make change and SALT JAR is proud to be a part of it. 
Order ~ Refill ~ Return ~ Repeat
Order SALT JAR refillery items alongside your weekly localsalt  favorites. Everything at SALT JAR refillery is pre-order and comes in a returnable glass mason jar or wrapped backyard compostable material if they don't fit in a jar (spaghetti, crackers etc.) Just order what you need, refill your existing containers and return your jars for refund the next time you pick up! 
We know it takes more thought than grabbing laundry soap off the shelf- but it was done before plastic and we can do it again. Our society has become increasingly dependent on plastic products, so making the shift to living with less plastic (and, eventually, living plastic-free) can sometimes be challenging. But let me tell you- it feels really good.
Make it a game in your house… what can we upcycle, reuse or refill? 
Your favorite cheezies probably will not likely be available without the bag anytime soon- so start with items you are a little less attached to. Good ideas are household cleaning supplies, milk, yogurt, spices, oils and vinegars.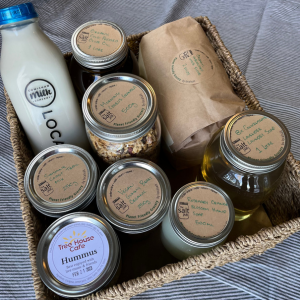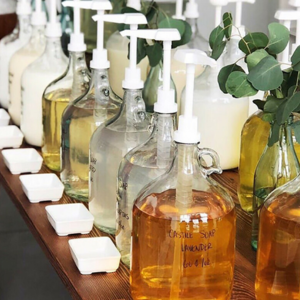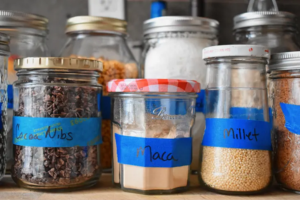 Find cooking funnels- these work well for emptying contents of the jars into your own containers.  
No need to run out and buy 50 mason jars. Upcycle your current containers. Next time the quinoa, paprika or dish soap runs out- just order and refill the container. 
Go look at your recycling and garbage. What do you think you could replace next time around?
Write down why you are making the change to plastic-free and stick it on your fridge. 
Follow SALT JAR refillery on Instagram for more ideas.
It's hard to change our habits overnight- so start small. But just like sticking to a healthy diet and exercising, living a low-impact lifestyle becomes routine. The benefits of living plastic-free are so profound that it makes sticking to the habit more than worth it. Just like supporting local producers- everything we buy is a vote for the kind of world we want.